//}else{ ?>
Testimonials
Service excellence is key to our business and to our industry. We selected Logi-Serve to help us achieve the best guest services possible.

Logi-Serve fills an assessment gap by focusing on external and internal service excellence. It is a very thoughtful and well-developed tool, clearly best in class.

Logi-Serve is supported by a team of industry experts and support staff. Logi-Serve is our key tool to select and develop our employees.

Logi-Serve's visual assessment system focuses on core areas of sales and service. The unique branding system aligns well with our brand focused culture.

Logi-Serve is a deep and scientifically valid tool. We find the tool user friendly, creative and results driven. We highly recommend it.

In our business service and sales carry our dealerships. Logi-Serve is the most efficient system we have seen that identifies key service competencies.

Logi-Serve delivers improvements in patient satisfaction ratings and builds greater consistency of service within our large diverse practice.

Our fitness center has always been known as a top service organization. Logi-Serve makes sustaining high service levels so much easier and more enjoyable.
News & Updates
//} ?>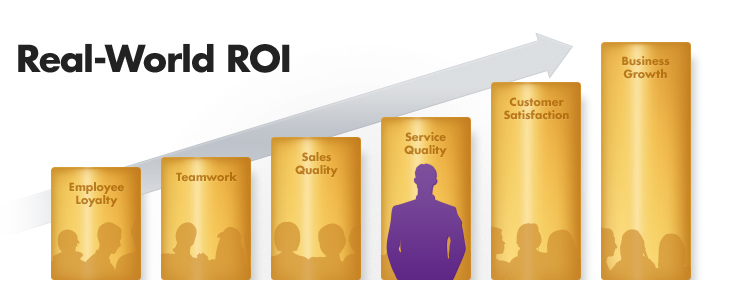 The close relationship between customer service and superior financial performance is borne out by more than 30 years of scientific research. Top companies around the world recognize the critical importance of assessing and developing employees with superior sales and service ability.
Building Success Through Service and Positive Reinforcement
Customer satisfaction relates directly to service quality, which is delivered by skilled, motivated employees. Ensuring that employees are best equipped to deliver this requires positive reinforcement.
Working from this belief, Logi-Serve presents scores and feedback using the positive, globally recognized gold-silver-bronze medal™ system. Other assessment firms, in contrast, present results in negative, judgmental ways, such as the traditional green-yellow-red lights system.
With Logi-Serve, no one walks away intimidated or feeling that they can't do better. Our breakthrough reporting and analytics system showcases a benchmarking system that lets you:
Compare your prospects and incumbents to multiple standards inside and outside your organization, as well as to its culture.
Trigger individualized development feedback based on an individual's medal scores
Instantaneous ROI feedback
Logi-Serve's revolutionary monetary analytics estimators show in real-time how much money you will save or make on those recommended by your Logi-Serve Gold medalists. With the Logi-Serve cloud -based dashboard analytics package, you will be able to:
Identify your company's strengths and prioritize areas for improvement
Increase your ability to hire the right people who will make the right decisions, and develop and motivate your existing employees
Measure and monetize the impact of top-rated prospects and employees. Increase your customer satisfaction ratings while you build a stronger service culture tailored to your specific organization
Logi-Serve: The Complete Solution
Logi-Serve manages the entire employee lifecycle – from selecting the right people, to managing and developing them as employees. It includes recommended readings and integration with CRM Learning's best-in-class audio/video training content. And it features its own proprietary mentoring, coaching, and development tips and suggestions.
No other software in the marketplace can match its value, its accuracy in predicting service ability, or its visually engaging approach to screening and developing your people.