Insights / Press Releases
Nebraska Furniture Mart Selects Logi-Serve to Help Identify Top Retail Sales and Service Representatives
Apr 08, 2019
FARMINGTON HILLS, MICH—March 2019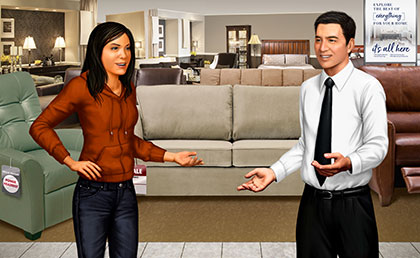 Logi-Serve recently announced that Nebraska Furniture Mart ('NFM'), a leading provider of home furnishings, appliances, and electronics, has selected it as NFM's employee assessment solution to help NFM identify top talent for sales and customer service roles.
Logi-Serve has developed a state-of-the-art assessment platform with science proven to predict and develop sales and service-related outcomes (e.g., sales, positive referral, customer loyalty and customer satisfaction, etc.). Logi-Serve's assessment predicts performance in roles focused on sales and service to customers (e.g., B2C) or business to business sales and service (e.g., B2B).
"At NFM we strive to provide quality service to our customers every step of the way, and that starts with employees that we can count on to be a positive influence on people and processes. We are excited to partner with Logi-Serve to offer a new pre-employment assessment tool that we believe will provide increased efficiency and flexibility in our approach to evaluating and hiring employees that fit our culture, share our values, and will meet the needs of our customers."

—Megan Berry Barlow, NFM Chief Human Resources Officer
Eric Krohner, founder and CEO of Logi-Serve, said: "We are very proud to earn NFM's business. They have a renowned service-oriented culture and rich business and philanthropic history. We believe Logi-Serve is uniquely positioned to help NFM sustain the high levels of service and sales excellence that has been their hallmark for generations. Logi-Serve offers the only sales and service assessment that merges strong psychometrics with value-focused quantitative modeling, driving the kind of measurable performance that organizations like NFM care about. We look forward to serving NFM and helping them continue to succeed in the 21st century."
About Nebraska Furniture Mart
Nebraska Furniture Mart is more than a store. NFM is in the business of improving people's lifestyles. By offering big selection, big savings and big ideas, NFM works to inspire our customers to create the home of their dreams (without breaking the bank). NFM is customer-focused and strives to provide the best experience every step of the way. www.nfm.com
About Logi-Serve
Logi-Serve is rapidly distinguishing itself as the market's leading assessment innovator for companies seeking to predict customer service ability, enhance customer experiences, increase sales and build a culture of sales and service excellence. Through patent pending science and tools that pose questions based on a role-playing activity, its use of advanced response gathering technology and a validated competency framework, Logi-Serve offers the market's most direct link to predicting and shaping business outcomes. For more information, please visit the Logi-Serve website @ www.logi-serve.com. For small businesses looking to take advantage of science and technology to improve hiring and development decision making visit Logi-Serve OnDemand @ https://ondemand.logi-serve.com/.
---
Enterprise assessment suite
Smarter assessments that predict performance and improve outcomes
Logi-Serve's employee assessment platform provides a comprehensive suite of tools that identity the best candidates, maximize employee performance, and improve business outcomes.
Learn more
Job previews that target candidates and improve your recruitment efficiency
Logi-Serve's Realistic Job Preview enriches standard job postings with an interactive preview of open positions. It informs job seekers and collects actionable data for employers to refine their recruitment strategies.
Learn more