Insights / Press Releases
MSX International Partners with Logi-Serve to Deliver Breakthrough Customer-Service Assessment Tools to Dealerships
Sep 03, 2013
WARREN, MI—Sept 3, 2013
MSX International (MSXI), the leading global provider of services and technologies that support automakers and their dealerships in improving retail network performance, has announced a partnership with Logi-Serve, one of the industry's fastest growing employee-assessment specialists. The combination of Logi-Serve's revolutionary technology and MSXI's Retail Network Solutions (RNS) will provide a first-of-its-kind service to the global automotive industry.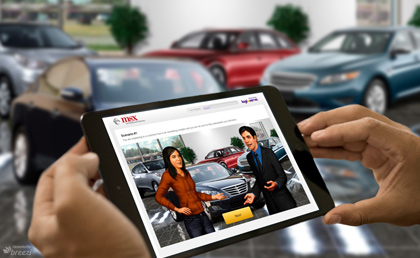 Under the agreement, Logi-Serve and MSXI will create a testing tool unique to the automotive industry, based on Logi-Serve's visual storyboarding platform and unique business analytics system, to help dealer networks achieve and maintain sales and service excellence. MSXI will integrate the online testing tool across its portfolio of service offerings, enabling its global automotive customer base to improve retail sales and service quality for customers.
"MSXI's customers will benefit from the outstanding technology that Logi-Serve has pioneered for accurately predicting an individual's ability to provide quality customer service and sales," said Pieter Van Rosmalen, global vice president, MSXI. "Service excellence is key to the future of the dealership business model, and Logi-Serve brings a laser-like focus to this area. This new tool is fully complementary to our own related offerings around assessment, development and training people at retail."
Logi-Serve simulates real-life workforce situations that predict key competencies to improve the process of selecting and developing employees. This generates a pool of talent that is fertile soil for MSXI's training and performance improvement solutions, which help grow the dealership's bottom-line and increase customer loyalty and satisfaction.
"Logi-Serve is delighted to partner with MSXI to bring the industry's leading assessment tool to the dealership community," said Eric Krohner, president and CEO, Logi-Serve. "We have the utmost respect for MSXI's commitment to helping its clients succeed by carefully combining our leading-edge technology with their own proven methodologies."
With more than 70 years of global automotive experience, MSXI provides clients with comprehensive RNS to meet unique business needs and optimize dealership operations. MSXI leverages data to identify improvement opportunities and drive performance in all areas of dealer operations.
Andrea Sorrenti, vice president of RNS for North America, MSXI, added, "Our clients are looking for tools that can predict and drive higher levels of performance from their retail operations. Logi-Serve answers this need. Together, we can deliver a new suite of products that can easily scale to meet the needs of small, mid-size and large organizations, aligning employees with key performance indicators."
About MSXI
Headquartered in Warren, Mich., and with decades of experience and more than 5,000 industry experts in 51 countries, MSX International serves as a perpetual pioneer, opening new roads in the retail network and human capital solutions spaces. Leveraging its expertise in the passionate pursuit of outstanding results, MSXI is adept at bringing innovative resolution to both its customers' opportunities and their complex challenges. For more information, please visit www.msxi.com.
---
Enterprise assessment suite
Smarter assessments that predict performance and improve outcomes
Logi-Serve's employee assessment platform provides a comprehensive suite of tools that identity the best candidates, maximize employee performance, and improve business outcomes.
Learn more
Job previews that target candidates and improve your recruitment efficiency
Logi-Serve's Realistic Job Preview enriches standard job postings with an interactive preview of open positions. It informs job seekers and collects actionable data for employers to refine their recruitment strategies.
Learn more