Insights / Press Releases
Logi-Serve and Jobvite Partner to Help Companies Attract, Assess and Hire the Best People, Faster
Jul 25, 2013
BURLINGAME, CA and Farmington Hills, MI—July 24, 2013
Jobvite and Logi-Serve announced today that they have entered into a partnership that will enable Jobvite and Logi-Serve to offer the industry's most innovative online recruiting and assessment solutions.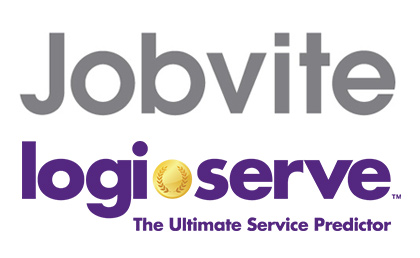 The agreement will allow Jobvite, the essential recruiting platform for innovators and industry leaders, to integrate Logi-Serve's online assessment tool directly into its workflow. As a result, Jobvite's customers will be able to easily identify and accurately assess candidates in an automated fashion that makes the recruitment process more engaging and precise.
"We're proud to partner with other innovative recruiting solutions that will enhance our customers ability to succeed in the war for talent," said Skip Hilton, Vice President, Business Development for Jobvite. "Logi-Serve will enable us to offer a service unique in the marketplace. Our customers will be able to recruit and assess candidates for a whole range of critical sales and service positions with exceptional insight and accuracy."
Logi-Serve's deployment of analysis tools and visual storyboarding, a precise slider bar response technology, isn't available through any other provider. Its predictive solution enables companies to foresee candidates' sales and service excellence and tie it back to incremental revenue more accurately than any other solution in the market. Logi-Serve's entirely different approach to assessment technology offers the strongest available value proposition for customer-service and sales-oriented organizations.
"Jobvite's strength in driving referrals and leveraging social media for recruitment, plus Logi-Serve's sophisticated assessment and scoring technology, will make a powerful partnership," said Eric Krohner, President and CEO of Logi-Serve. "Together, we'll enable a broad cross-section of companies to find, assess and hire the best candidates, faster."
About Jobvite
Jobvite is the leading recruiting platform for the social web. Today's fastest-growing companies use applicant tracking, recruiter CRM and social recruiting software solutions from Jobvite to target the right talent and build the best teams. Jobvite is a complete, modular Software-as-a-Service (SaaS) platform which can optimize the speed, cost-effectiveness and ease of recruiting for any company. For more information, visit www.jobvite.com
---
Enterprise assessment suite
Smarter assessments that predict performance and improve outcomes
Logi-Serve's employee assessment platform provides a comprehensive suite of tools that identity the best candidates, maximize employee performance, and improve business outcomes.
Learn more
Job previews that target candidates and improve your recruitment efficiency
Logi-Serve's Realistic Job Preview enriches standard job postings with an interactive preview of open positions. It informs job seekers and collects actionable data for employers to refine their recruitment strategies.
Learn more