//}else{ ?>
Testimonials
Service excellence is key to our business and to our industry. We selected Logi-Serve to help us achieve the best guest services possible.

Logi-Serve fills an assessment gap by focusing on external and internal service excellence. It is a very thoughtful and well-developed tool, clearly best in class.

Logi-Serve is supported by a team of industry experts and support staff. Logi-Serve is our key tool to select and develop our employees.

Logi-Serve's visual assessment system focuses on core areas of sales and service. The unique branding system aligns well with our brand focused culture.

Logi-Serve is a deep and scientifically valid tool. We find the tool user friendly, creative and results driven. We highly recommend it.

In our business service and sales carry our dealerships. Logi-Serve is the most efficient system we have seen that identifies key service competencies.

Logi-Serve delivers improvements in patient satisfaction ratings and builds greater consistency of service within our large diverse practice.

Our fitness center has always been known as a top service organization. Logi-Serve makes sustaining high service levels so much easier and more enjoyable.
News & Updates
//} ?>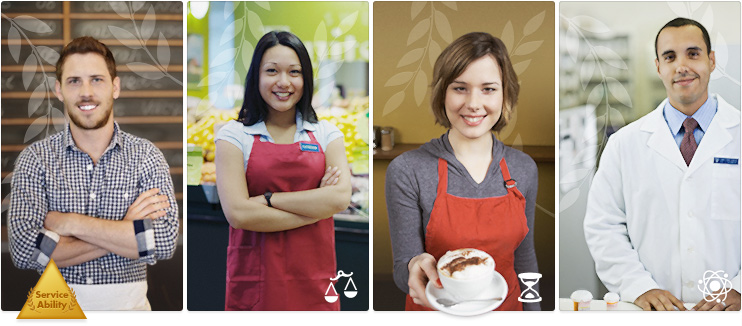 Logi-Serve's proven scientific employee assessment methodologies and breakthrough Visual Logic™ storyboarding technology make it the best system in the marketplace to predict sales and service aptitude – before and after hire.
Visual Logic™ Storyboarding
Effective employee assessment is going visual and interactive. And Logi-Serve is leading this movement with a smarter engine and more engaging user experience than ever before.
Just as a good story holds an audience, Visual Logic™ storyboarding captivates those being assessed – eliciting more accurate, meaningful responses.
Unlike text-based methods, Visual Logic™ storyboarding utilizes graphics that simulate real-life job situations down to the finest detail, like facial expressions and body language. Some features include:
Realistic environments that mirror actual jobs, workplace situations and captures a scenario's emotional content
Visually driven approach that predicts key job competencies, forethought and trainability
Higher engagement that generates more accurate data
Through the use of adaptive digital art and advanced software logic, Logi-Serve can easily configure and project the subtleties of the workplace.
Revolutionary Response Gathering Software
Logi-Serve's interactive slider bar method engages the user, elicitng subtler responses that provide more predictive results. This breakthrough response system:
Uses an interactive slider-bar response technology to improve response range sensitivity and enhance data measurement.
Increases the intentionality of responses, cutting response rut
Reduces reliance on anchor descriptors that confuse candidates
Triangulation™ Science
Logi-Serve's patent-pending Triangulation™ Science technology validates employee assessment data across multiple dimensions. Just as a physician might deploy a multidimensional protocol to pinpoint a diagnosis, Logi-Serve reliably identifies a candidate's suitability by triangulating multiple factors. These include:
Situational decision-making and role-playing exercises that assess judgment
Data about past experiences that predict future performance
Personality profiles that contrast and compare ideal versus real traits
People Brand Employee Assessment Configurability
Scientific research shows that users get the most out of employee assessment software when they connect using them with their position, and even their employer. That's why Logi-Serve gives you unprecedented abilities to tailor certain parameters to your needs:
The ability to select the Visual Logic™ scenario environments that match your industry and position detail by detail
The scope to brand the visual interface and Visual Logic™ system with a proprietary branding zone feature, which aligns your company brand with those who represent it